---
May 19, 2016
Make: and Hackster.io announced an exciting new partnership today that will benefit the millions of innovators who constitute the Maker Movement. The companies have joined together in an effort to...
---
February 01, 2016
---
January 04, 2016
GE has always been the trusted resource for lighting innovation, and today we continue to light the way with energy-efficient solutions that answer customers' needs. As LED adoption grows, GE continues to innovate, anticipating trends and shaping the...
---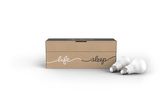 October 29, 2015
Today's smart home market is anything but simple—it's very fragmented with no clear platform winner. GE wants to make it easy for consumers to use smart LED lighting, while ensuring interoperability and a positive...
---
September 30, 2015
A memorandum of understanding (MOU) between GE Lighting and SST, Inc., developer of the ShotSpotter™ crime detection and location suite, lays ground to embedding sophisticated ShotSpotter technology into GE's intelligent LED street lights.
---
September 24, 2015
The world's first pilot of GE's intelligent LED solution for cities is now up and running in San Diego, California. Hear what residents are saying about the potential of the Intelligent Environments for Cities solution and how the connected LEDs fit into...
---
June 03, 2015
GE today unveiled Bright Stik™ LED, a redesigned, entry point 60-watt replacement LED, accelerating consumers' transition from CFL to LED lighting—according to GE industry estimates. With an LED 3-pack for under...
---
March 05, 2015
GE Lighting's new Align™ technology harnesses the power of lighting to help regulate melatonin, the "sleep hormone", production, promoting the body's natural sleep-wake cycle
---
January 20, 2015
Higher lumen options, exceptional energy efficiency and sleek modern style are just three reasons to choose GE's new Lumination™ TS Series LED Accent Lights.
---
November 04, 2014
From new technologies to a wider range of products, GE Lighting will highlight its full line of automotive lighting solutions—including headlights, taillights and interior lights—at the 2014 Automotive Aftermarket Products Expo (AAPEX) show Nov. 4-6 in Las Vegas, Nev.
---