---
September 30, 2016
To propel the connected home forward, GE is not only relying on inventors within its own walls, but challenging the Maker community to share their best ideas. Nearly 1,000 makers, from college students to data scientists, submitted connected lighting ideas for the home...
---
May 19, 2016
Make: and Hackster.io announced an exciting new partnership today that will benefit the millions of innovators who constitute the Maker Movement. The companies have joined together in an effort to...
---
February 01, 2016
---
January 04, 2016
GE has always been the trusted resource for lighting innovation, and today we continue to light the way with energy-efficient solutions that answer customers' needs. As LED adoption grows, GE continues to innovate, anticipating trends and shaping the...
---
November 09, 2015
Innovation in LED lighting has earned GE high industry acclaim yet again: Five recently launched LED products from GE will be showcased today at the annual conference of The Illuminating Engineering Society (IES).
---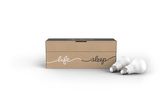 October 29, 2015
Today's smart home market is anything but simple—it's very fragmented with no clear platform winner. GE wants to make it easy for consumers to use smart LED lighting, while ensuring interoperability and a positive...
---
September 30, 2015
A memorandum of understanding (MOU) between GE Lighting and SST, Inc., developer of the ShotSpotter™ crime detection and location suite, lays ground to embedding sophisticated ShotSpotter technology into GE's intelligent LED street lights.
---
September 24, 2015
The world's first pilot of GE's intelligent LED solution for cities is now up and running in San Diego, California. Hear what residents are saying about the potential of the Intelligent Environments for Cities solution and how the connected LEDs fit into...
---
July 17, 2015
As part of its commitment to reduce energy consumption, the City of Oceanside recently installed more than 7,700 GE LED roadway fixtures equipped with a GPS-enabled controls system.
---
June 03, 2015
GE today unveiled Bright Stik™ LED, a redesigned, entry point 60-watt replacement LED, accelerating consumers' transition from CFL to LED lighting—according to GE industry estimates. With an LED 3-pack for under...
---